Home > Route Selection > US 21 > History > Virginia
Route History for US 21 in Virginia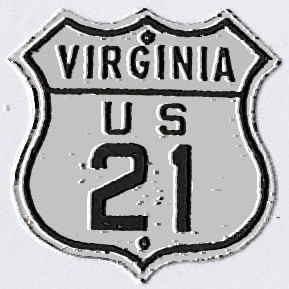 (under construction)
In 1964

US 21 entered Virginia via what is now VA-598 (Old US-52).
US 21 continued south on current US 52 through Bland and into Wytheville (via Stoney Fork Road and North 4th Street).
External websites of interest:
Welcome Page | Route Selection | US 21 Main Page | History of US 21 | US 21 History in West Virginia | US 21 History in North Carolina | Site Map
If you have any questions / comments / corrections for this website or find a broken link, please e-mail me.
Copyright 2006-2010 by Robert Mortell