Home > Route Selection > US 21 > History > North Carolina
Route History for US 21 in North Carolina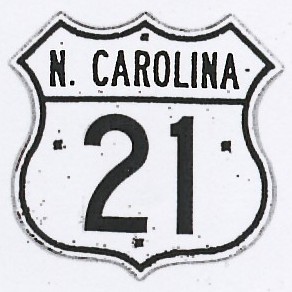 (under construction)
In 1956 US 21 followed basically the same route as it does today.

Between Caldwell and Croft, US 21 followed what is now NC-115 but was in the process of being moved to its current alignment.
Approaching Charlotte, US 21 continued south on Statesville Avenue, then followed Graham Street and Morehead Street through downtown and exited the city via Boulevard South. At Pineville US 21 turned right onto what is now NC-51.
External websites of interest:
Welcome Page | Route Selection | US 21 Main Page | History of US 21 | US 21 History in Virginia | US 21 History in South Carolina | Site Map
If you have any questions / comments / corrections for this website or find a broken link, please e-mail me.
Copyright 2006-2010 by Robert Mortell