Home > Route Selection > US 1 > History > New York
Route History for US 1 in New York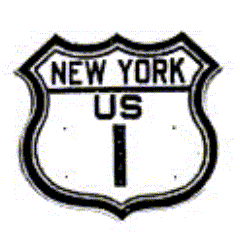 In 1926, US 1 was marked as NY 1 (or possibly NE 1), and was paved. The road followed its current route to Fordham Road in the Bronx, but then crossed the Harlem River to Manhattan at 207th Street. The route then followed Dyckman Street to the Hudson River, where travelers took a ferry to New Jersey.
By 1927, the route had been renumbered US 1.
By 1946, the George Washington Bridge was complete and carried US 1 across the Hudson River. In the Bronx, US 1 followed Fordham Road to University Avenue, and then crossed the Harlem River at 181st Street, following 181st Street to the George Washington Bridge.
Between 1956 and 1961, I 95 was completed in New York. Rather than following 181st Street across the Harlem River, US 1 now followed I 95 from University Avenue to New Jersey. With the completion of I 95, US 1 ceased to be a major through route in New York.
Between 1977 and 1979, US 1 was rerouted in the Bronx to follow Webster Avenue, rather than University Avenue, from Fordham Road to I 95.
Key to Abbreviations for Route Numbers:
US - US Highway
I - Interstate Highway (Eisenhower Interstate System)
NE - New England Interstate Highway (Pre-dates US highway system)
NY - New York State Highway
External websites of interest:
Welcome Page | Route Selection | US 1 Main Page | History of US 1 | US 1 History in Connecticut | US 1 History in New Jersey | Site Map
If you have any questions / comments / corrections for this website or find a broken link, please e-mail me.
Copyright 2000-2010 by Robert Mortell