Home > Route Selection > US 1 > History > New Jersey
Route History for US 1 in New Jersey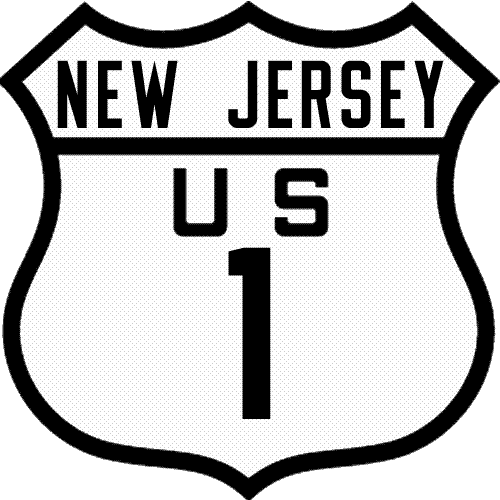 In 1926, US 1 was marked as NJ 1 from the Hudson River to New Brunswick, and then marked as NJ 13 from New Brunswick to the Delaware River. NJ 1 between the Hudson River and Newark follows basically the same route US 1 follows today. Between Newark and New Brunswick, NJ 1 followed what is now NJ 27. NJ 13 followed what is now NJ 27 from New Brunswick to Princeton, then followed what is now US 206 from Princeton to Trenton. In Trenton, NJ 13 followed Princeton Avenue, to North Warren Street, to Warren Street, to Bridge Street. This entire route through New Jersey was paved in 1926.
By 1928, the road had been renumbered US 1.
By 1934, US 1 had been realigned to follow its current route from New York to just north of Trenton. From here it followed what is now Business US 1 to what is now US 206.
By 1940, most of US 1 north of Trenton had been widened to 4 lanes.
Between 1950 and 1955, US 1 was realigned onto a limited access highway through most of Trenton. The route still followed what is now Business US 1 to US 206, but then followed the Trenton Freeway through the city. During this time period, the New Jersey Turnpike was also completed, reducing US 1's role as a major through route.
Between 1960 and 1966, the Trenton Freeway was extended to its current length, allowing travelers to bypass what is now Business US 1. Since 1966, US 1 has not seen any major realignment in New Jersey.
Key to Abbreviations for Route Numbers:
US - US Highway
I - Interstate Highway (Eisenhower Interstate System)
NJ - New Jersey State Highway
External websites of interest:
Additional historical information about US 1 in New Jersey can be found on the New Jersey Roads website.
Welcome Page | Route Selection | US 1 Main Page | History of US 1 | US 1 History in New York | US 1 History in Pennsylvania | Site Map
If you have any questions / comments / corrections for this website or find a broken link, please e-mail me.
Copyright 2000-2012 by Robert Mortell