Home > Route Selection > US 1 > History > Washington, DC
Route History for US 1 in Washington, DC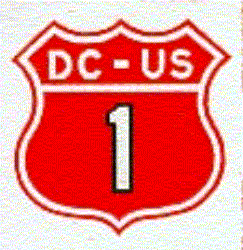 In 1928, US 1 entered Washington via Bladensburg Road, and then followed Maryland Avenue to the Potomac River.
By 1964, US 1 was rerouted so it entered Washington via Rhode Island Avenue. From there it went to 6th Street, Constitution Avenue, 15th Street, and across the George Mason Memorial Bridge.
In 1977, US 1 was rerouted so that from 6th Street, it turned onto L Street, then onto 9th Street to the Southwest Freeway (I 395).
Key to Abbreviations for Route Numbers:
US - US Highway
I - Interstate Highway (Eisenhower Interstate System)
External websites of interest:
Welcome Page | Route Selection | US 1 Main Page | History of US 1 | US 1 History in Maryland | US 1 History in Virginia | Site Map
If you have any questions / comments / corrections for this website or find a broken link, please e-mail me.
Copyright 2000-2012 by Robert Mortell