Home > Route Selection > US 6 > History > Massachusetts
Route History for US 6 in Massachusetts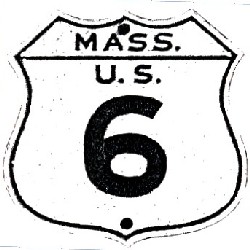 In the early 1950s:

US 6 began in Provincetown and followed what is now MA-6A out of town.
Further south on Cape Cod US 6 followed what is now MA-6A through Brewster, Dennis, and Barnstable. At MA-132, US 6 turned left to access its current alignment.
In Fall River US 6 followed Bedford Street and Central Street to North Davol Street.
The rest of US 6 followed basically the same route as it does today through Massachusetts.

By 1968, US 6 followed its current alignment through Massachusetts.
External websites of interest:
Welcome Page | Route Selection | US 6 Main Page | History of US 6 | US 6 History in Rhode Island | Site Map
If you have any questions / comments / corrections for this website or find a broken link, please e-mail me.
Copyright 2006-2011 by Robert Mortell