Home > Route Selection > US 50 > History > Illinois
Route History for US 50 in Illinois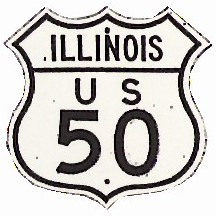 External websites of interest:
Jim Grey has a very nice write-up and photos of old US 50 alignments in Illinois.
Some additional information about changes to US 50 can be found on the Illinois Highways website.
Welcome Page | Route Selection | US 50 Main Page | History of US 50 | US 50 History in Indiana | US 50 History in Missouri | Site Map
If you have any questions / comments / corrections for this website or find a broken link, please e-mail me.
Copyright 2014 by Robert Mortell