Home > Route Selection > US 46 > History > Pennsylvania
Route History for US 46 in Pennsylvania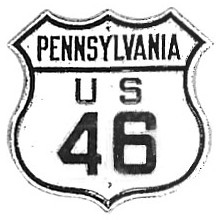 In 1934, the route that would become US 46 was numbered PA-987.
By 1942, the route had been renumbered as US 46. It followed River Road from just north of Delaware, New Jersey (on the Pennsylvania side of the Delaware River) to Portland. There is no longer an automobile crossing where US 46 used to cross the Delaware River, although an adjacent railroad bridge remains.
Between 1950 and 1955, US 46 was re-routed to remain in New Jersey, eliminating the route in Pennsylvania.
External websites of interest:
Some information about former alignments of US 46 in Pennsylvania can be found on thePennsylvania Highways website.
Welcome Page | Route Selection | US 46 Main Page | History of US 46 | US 46 History in New Jersey | Site Map
If you have any questions / comments / corrections for this website or find a broken link, please e-mail me.
Copyright 2008-2010 by Robert Mortell