Home > Route Selection > US 25 > History > North Carolina
Route History for US 25 in North Carolina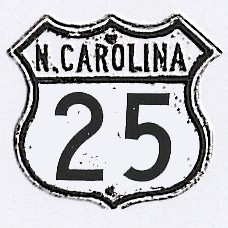 (under construction)
Hendersonville to around Arden not paved in 1925.
Arden to Asheville paved in 1925.
Asheville to Weaverville paved in 1925, but in 1925 there was no main road between Weaverville and Marshall. The route from Asheville to Marshall looks like it followed NC-251 to Craggy and Old Leicester Rd to Old Highway 20, then followed Old Highway 20 / Old NC-20 and Bailey Branch Rd north to Marshall. In 1925, this route was paved from Asheville to around the Old Leicester Rd / Old Highway 20 junction, and was not yet paved from this junction to Marshall. By 1935, US 25 followed what is now NC-251 from Asheville to Marshall (and was all paved).
Marshall to Hot Springs and the Tennessee line was not paved in 1925.
The entire route from Hendersonville to Tennessee was paved by 1935.
External websites of interest:
Welcome Page | Route Selection | US 25 Main Page | History of US 25 | US 25 History in Tennessee | US 25 History in South Carolina | Site Map
If you have any questions / comments / corrections for this website or find a broken link, please e-mail me.
Copyright 2006-2010 by Robert Mortell