Route History for US 20 in Massachusetts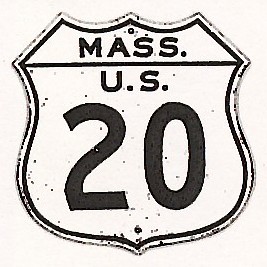 In the early 1950s US 20 followed basically the same alignment through Massachusetts as it does today, except in Springfield where it entered on Boston Road and State Street, went north on Columbus Avenue to Memorial Bridge, then in West Springfield followed Memorial Avenue to Union Street.
By 1968 this routing has changed a little bit. US 20 still followed State Street into Springfield, but in West Springfield it followed US 5 north to Park Street.
By 1976 US 20 had been moved to its current alignment through Springfield.
External websites of interest:
Welcome Page | Route Selection | US 20 Main Page | History of US 20 | Site Map
If you have any questions / comments / corrections for this website or find a broken link, please e-mail me.
Copyright 2006-2011 by Robert Mortell