Home > Route Selection > US 20 > History > Illinois
Route History for US 20 in Illinois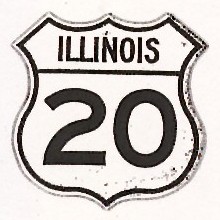 External websites of interest:
Some great westbound and eastbound vintage photos of US 20 between Rockford and Freeport can be found on Bob Anderson's pages on webshots.
Additional information about the history of US 20 in Illinois can be found on the Illinois Highways website.
Welcome Page | Route Selection | US 20 Main Page | History of US 20 | US 20 History in Iowa | Site Map
If you have any questions / comments / corrections for this website or find a broken link, please e-mail me.
Copyright 2006-2010 by Robert Mortell