Home > Route Selection > US 1 > History > Rhode Island
Route History for US 1 in Rhode Island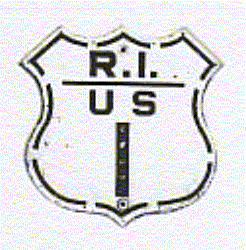 In 1926, US 1 was marked as NE 1. The road was paved, and followed nearly the same route it does today. Places where NE 1 veered from US 1's current path are in Wakefield and near Charlestown. In Wakefield, NE 1 followed Old Tower Hill Road, Main Street, and Post Road. Between Perryville and Charlestown, NE 1 followed Post Road and Old Post Road.
By 1928, NE 1 had been renumbered as US 1.
By 1950, US 1 had been realigned between Wickford and Narragansett. During this time, US 1 followed the path of what is now RI 1A.
By 1963, US 1 had been realigned to its original (and current) path. Part of the road had been widened to 4 lanes around Wakefield and Perryville.
By 1969, US 1 had been widened to 4 lanes from Allenton to Westerly. North of Allenton, I 95 had been completed in the Providence area, replacing US 1 as a major through route from the Massachusetts state line to East Greenwich. There have been no major changes to US 1 since 1969.
Key to Abbreviations for Route Numbers:
US - US Highway
I - Interstate Highway (Eisenhower Interstate System)
NE - New England Interstate Highway (Pre-dates US highway system)
RI - Rhode Island State Highway
External websites of interest:
Welcome Page | Route Selection | US 1 Main Page | History of US 1 | US 1 History in Massachusetts | US 1 History in Connecticut | Site Map
If you have any questions / comments / corrections for this website or find a broken link, please e-mail me.
Copyright 2000-2010 by Robert Mortell