Home > Route Selection > US 1 > History > New Hampshire
Route History for US 1 in New Hampshire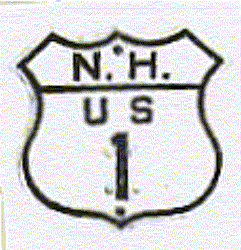 In 1926, US 1 was called NE 1. The road was paved and followed nearly the same path it does today.
By 1928, the route had been renumbered as US 1.
By 1951, I 95 had been constructed, replacing US 1 as a major through route.
Key to Abbreviations for Route Numbers:
US - US Highway
I - Interstate Highway (Eisenhower Interstate System)
NE - New England Interstate Highway (Pre-dates US highway system)
Welcome Page | Route Selection | US 1 Main Page | History of US 1 | US 1 History in Maine | US 1 History in Massachusetts | Site Map
If you have any questions / comments / corrections for this website or find a broken link, please e-mail me.
Copyright 2000-2010 by Robert Mortell