Home > Route Selection > US 1 > History > North Carolina
Route History for US 1 in North Carolina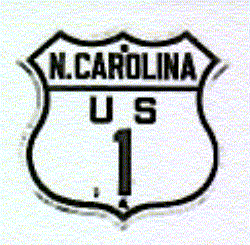 In 1926, US 1 was called NC 50. At this time the road was paved between Norlina and Henderson, and between Wake Forest and Cary. The rest of the road in North Carolina was improved (not paved). US 1 today generally follows the path of what was NC 50. Through Henderson, NC 50 followed what is now Business US 1. Between Youngsville and Wake Forest, NC 50 followed what is now called US 1A. Between Raleigh and Sanford, NC 50 followed a slightly different route than US 1 follows today. NC 50 entered Raleigh via Capital Boulevard and North McDowell Street, and left via West Cabarrus Street and Western Boulevard. NC 50 then followed Hillsborough Street, East Chatham Street, and West Chatham Street to Cary. It continued along what is now called Old Apex Road and North Salem Street to Apex, then along South Salem Street, Old US Highway 1 South, and Old US Highway 1 to Moncure. From Moncure, NC 50 followed what is now called Deep River Road, US 15, Business US 1, and Carthage Street through Sanford. In the Southern Pines area, NC 50 probably followed what is today NC 2080, Valley View Road, North May Street, East Pennsylvania Avenue, and Southwest Broad Street.
By 1928, the route had been renumbered US 1, and had been paved from the Virginia state line to Newhill. The entire route was paved by 1948.
By 1963, Youngsville and Wake Forest had been bypassed. In addition, US 1 was realigned onto a limited access highway around Raleigh and to Apex.
By 1970, the US 1 limited access highway had been extended from Raleigh to Moncure.
By 1980, the limited access highway from Raleigh had been extended to Sanford, and further north, US 1 had been widened to 4 lanes from Henderson to Raleigh.
Key to Abbreviations for Route Numbers:
US - US Highway
NC - North Carolina State Highway
External websites of interest:
Welcome Page | Route Selection | US 1 Main Page | History of US 1 | US 1 History in Virginia | US 1 History in South Carolina | Site Map
If you have any questions / comments / corrections for this website or find a broken link, please e-mail me.
Copyright 2000-2010 by Robert Mortell