Home > Route Selection > US 1 > History > Florida
Route History for US 1 in Florida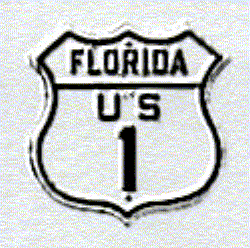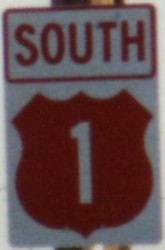 In 1926,

between the Georgia state line and St. Augustine, US 1 was called FL 4. The road was mostly paved, and followed US 1's current route except in Jacksonville. In Jacksonville, FL 4 followed what is now US 23 to Kings Road. FL 4 then followed State Street, Broad Street, Beaver Street, Main Street, Miami Road, and what is now FL 13 through the city. From FL 13, FL 4 followed Old St. Augustine Road and St. Augustine Road to US 1's current route.
Between St. Augustine and Dupont, the road was not numbered and was still dirt.
Between Dupont and Florida City, the route was again numbered FL 4, and was paved. No road extended beyond Florida City to the Florida Keys. FL 4 followed basically the same path as US 1 today with a few exceptions. Between Fort Pierce and Stuart, FL 4 followed what is now FL 707. Between Jupiter and West Palm Beach, and between Boca Raton and Fort Lauderdale, FL 4 followed what is now FL 811.

By 1928, the route was renumbered US 1. The road between St. Augustine and Dupont was being paved, and the road was extended from Florida City to Key Largo, although US 1 still officially ended in Miami.
By 1948, US 1 had been extended to Key West and realigned to its current route throughout the state, except in Jacksonville. Just across the St. Johns River in Jacksonville, US 1 was realigned to Kings Avenue.
Between 1963 and 1967, US 1 was realigned to its current route through Jacksonville, and was widened to 4 lanes from the Georgia state line to Florida City. In addition, construction had begun on Florida's Turnpike (then called the Sunshine State Parkway) and I 95, providing an alternate route to US 1.
By 1974, I 95 and Florida's Turnpike had replaced US 1 as a major through route along Florida's east coast. By this time, US 1 had been widened to 4 lanes through the Key Largo area.
Key to Abbreviations for Route Numbers:
US - US Highway
I - Interstate Highway (Eisenhower Interstate System)
FL - Florida State Highway
External websites of interest:
Welcome Page | Route Selection | US 1 Main Page | History of US 1 | US 1 History in Georgia | Site Map
If you have any questions / comments / corrections for this website or find a broken link, please e-mail me.
Copyright 2000-2012 by Robert Mortell